Once you receive the blood pressure monitor, you can take blood pressure readings and send the data to your smartphone using Bluetooth wireless connectivity. To connect your smartphone to the monitor, please follow the steps below:
If this is your first time using the monitor, go to step 2. Otherwise, please reset your monitor:

a. Press the Start button to turn on the monitor
b. Then hold down the Start button until the monitor turns off

Insert the included batteries

(4 AAA) into the back of the monitor and

plug in

the air hose

on the left side.

Turn

on Bluetooth on your smartphone

,

open the Hello Heart app and log in

. Both are needed in order to pair to the monitor.

The monitor screen will indicate the bluetooth is pairing by displaying the picture below:


On your smartphone, you will be asked if you received the monitor,

tap on "Yes, connect my monitor now."

If you don't see the automatic prompt to connect your monitor, tap on the

red + button

in the

tracker tab

. When you see the "Add blood pressure" screen,

tap on "connect your wireless monitor now"

at the bottom. Then follow the instructions below.

When prompted on the Hello Heart app,

Press (Do Not Hold) the Start button

on the monitor to connect it to your smartphone.

If successful, the icon

"!"

next to the bluetooth icon in the top left of the screen will disappear and

the monitor screen will display

"do nE"

as shown in the picture below. Then the monitor

will turn off automatically. The Hello Heart app will say

"Connected!"

and you can follow the prompts to take your first blood pressure reading.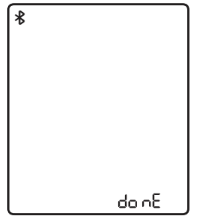 If your blood pressure monitor still doesn't connect to your phone, please select one of the articles below: